The Plews Team consists of the partners, employees and subcontractors, all with different skills and experience to resolve your gardening issues.
Since Marie first started Plews in 2001, there have been personnel changes and amendments to the services offered to you, our clients. We must be doing something right though, as Marie's first clients are still on the books!
Clients and their plants always have been the core element of Plews. Whether that's been the need for a new patio and planting design or help with unhealthy plants they already have. Which is why in 2012 we changed the focus of the business, to better serve our clients' needs. Now design, consultancy and lessons are at Plews Garden Design and the building of patios, fences and decking come under Plews Garden Landscaping. Whilst we are separate companies, for those clients who need a 'one-stop-shop' the Plews Team swings into action with seamless transition between Plews Garden Design and Plews Garden Landscaping.
We are able to work both with PGL and with other landscapers, interior designers and architects.
As for the members of the Plews Team, they are in a transitional phase as we write this for the updated website. For more about Marie and Nathan, click through to their pages.
Rory Waterfield, Design Assistant
At Plews, Rory is the design assistant for garden designs, planting schemes and projects, as well as the illustrator for the gardening eBooks. He also helps with the planting out of designs.
Outside Plews, Rory has his own new business, Beowuff Beckenham, where he walks and trains dogs, offers pet sitting and pet portraits. Watering the gardens of dog owners is also a service!
Photos of the current crew and past Plews Team members
Plews Team Animals
At Plews, Sharpe was Plews Employee of the Year 2012 and 2016. Involved with the business since puppyhood, we had say goodbye just before Christmas 2017, aged 13 ½ years.
Our photographic assistant, Reepicheep also died last year, although his sister, Pippin, now keeps the kittens Mulan and Caspian in order.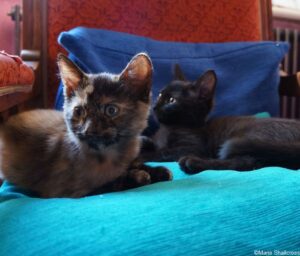 From admin help, tasting herbs, checking the size of pots and research assistance we couldn't manage without feline help…
Who are thePlews Team outsourced contractors and regular suppliers of materials for you, our clients so we can provide you with an excellent service for your gardening needs? They include: –
Blanc Sanglier – CRM and project management support
Simple Spider IT and Web Services
Plews Garden Design is an award-winning family run business offering Garden Design, Garden Consultancy, Gardening Lessons and Planting Designs to clients in London, Kent, Surrey, Sussex, Essex and the Home Counties and across the UK. Our sibling company, Plews Garden Landscaping is owned and run by Nathan Waterfield.
Marie Shallcross, owner at Plews Garden Design, has written and published eBooks and articles, and writes an award-winning weekly blog – Plews Potting Shed – on a range of gardening topics.